The Thane Gang
---

This is where I come from..........

Ram Maruti Road ,Thane. Talao Pali ,Thane.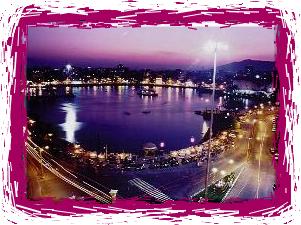 Another view of Talao Pali ,Thane.

---
The A.K.Joshi Gang :
I passed my 10th standard examination from this school and believe me when I say ,that I had a gala time over here.I made some delightful friends along the way and here are they.....
Nikhil Joshi :The eternal prankster .Nikhil keeps on weaving in and out of trouble and hardly a day passed when he didn't grace the Principal's office.But,somehow he always managed to scrape through because he always scored well in examinations.If only ,he used his brains a lot more ,he'll go places.He has a very cocky yet childish attitude to life.Nikhil is extremely self-confident and sometimes even borders on arrogance.Yet,he definitely is one of my great friends and he knows me and my traits as well as any person on earth.He is good at Table-Tennis.Nikhil also likes to think that he is good at cricket and likens himself to Shoaib Akhtar ,although the only thing common between the two,is that they both chuck !He is currently in RAIT,Mumbai doing Engg. in Electronics.If only ,he used his brains better.....
Rohit Joshi : Another one of my better friends .Rohit is one of those guys who take life seriously and live life according to some set pattern ,hardly ever breaking out of it.Rohit is great at trivia stuff,G.K.,quizzes and the like.Well aware of his surroundings and what he wants in life ,he is willing to work hard for it.He also playes Table-Tennis and cricket decently well.He has got a great Alsatian with a fundu name,'Shadow'.Sometimes,I wonder,whether I go to his place to meet him or his dog.It's Shadow,I guess :).Rohit is doing B.Sc (Life-Sciences) at St.Xavier's,Mumbai.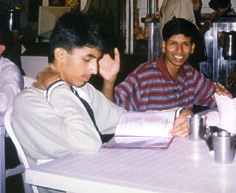 Nikhil (left) and Rohit (right...obviously)

---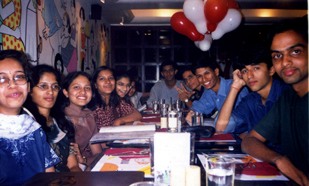 From L to R : Ashwini,Bharathi,Varsha,Maithili,Snehal,Aditi,Prasad,Vishram,Rohit,Nikhil,Ashish.

---
The Thana College Gang :
This is the place where I spent two of the best years,11th std. and the 12th, of my life with some of the wackiest people mankind has known (no exaggerations ).I have never quite known as to how , all these samples came about in one single class.This describes them all ,with minor variations.I would love to thank them all for being with me in those 2 years and giving me some very fond and happy memories.
* Abhishek Purohit *Sagar Kambli
*Kaustubh Tikekar *Aniket Diwadkar
*Akshay Jambhekar *Sunny Chattopadhyay
*Dilip Chary *Milind Bhate
*Pragnesh Pokar *Sachin Rai
*Gaurav Kulkarni *Niket Vaidya
*Niket Vaidya *Mehul Nachane
*Nikhil Wagle *Sameer Thakkar

---
Back to the Snaps Page. Back to Home.
See all my best friends. Sign My Guestbook.